On holiday near Bamburgh woke early to find an orange sky and the sun not risen.
Grabbed my camera and set off towards the sea.
I felt suitably rewarded when I saw the sun peek over the horizon.

Have decided to paint this with watercolours at approx A3 Size.
Started by gridding up the image to the required size and have moved the sun - artistic licence.

Aug 2017 - Another that has been sitting in the to do file since March 2017.
I decided to have a play by pouring the sky using acrylic inks.
The first attempt was a disaster as the paper buckled and I'd left the picture drying flat.
The ink pooled and left a dark band in the hollow that I couldn't get rid of.
Attempt No 2 started with an overall wash of yellow, drying the picture stood on end with a hairdryer
to make sure that buckling was minimised and paint ran off the painting rather than pooling.
Once dry masked out the sun area with masking fluid then re-wetted the paper in lines where I wanted to do the pouring. Then with the picture propped on end dropped in the lightest pour ( a light peach shade ) and tipped the picture around until the paint was somewhere I wanted. As before standing on end dried with the hairdryer. Repeated the process with a slightly darker mix.

Continued to pour and dry with darker and darker mixes.
Always starting the pour at the left of the picture to develop the darkest area furthest away from the sun
and allowing a natural gradual tonal change as the paint became diluted with water at the right.
A little pushing the paint with a brush helped achieve the stripe effect.
Inks used were process yellow, yellow ochre, crimson and red earth.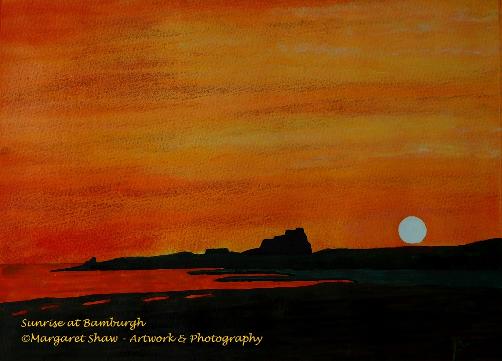 Once the sky was in place it was a matter of painting in the land, sea and castle
which I wanted to be plain so as not to complete with the sky.
I added burnt umber and paynes grey to my colour selection.
Did a little glazing with white in the sky to give a hint of white clouds.
Defined the outline of the castle with an inktense pencil to make sure the viewer sees the distinct shape of the castle.