Always on the lookout for pictures with lamps in them to add to the CATching series,
St Oswalds at Ravenstonedale seemed to present a likely subject.
Here's the drawing - need to move the 3rd light back a little and re-angle the gravestones on the right.
To be done at the tranfer to watercolour paper stage.
Transferred the drawing onto the watercolour paper. Applied masking fluid to the areas I wanted to keep white and did the watercolour washes with a range of blues - ultrmarine, colbalt, prussian - adding a little dioxazine violet to the sky. Paynes grey and translucent grey used on the church. On removing the masking fluid, paint has seeped under and there's going to be quite allot of correction work needed as I start to apply the details. But before thatI think at this stage I need to go back to the drawing and do some more working out of the details.
The correction work didn't happen with watercolours. I have turned to acrylics to sort this one out - using the same colours as planned for the watercolours. All blocking has been done and will now need to re-draw the details.
Used a toothbrush to splatter the sky with white - masking off the church and foreground with paper.
Dabbed on the background trees with all the blues and white - allowing some mixing on the paper.
Put a halo around the moon.
Using paynes grey and white added the bare tree under the moon.
Started to dot in the stones of the tower.
Added the rest of the texture to the church front and the roof.
Put in the large tree at the right - using more white to make it brighter than those behind the church
Put some more texture in the ground and more light in the path.
Added the gravestones and put the weather vane on top of the church tower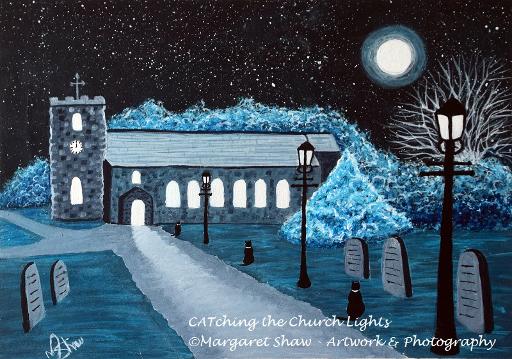 A little tweaking to straighten the church tower.
Put the dial on the clock
Added the lamps and finally the cats.
Signed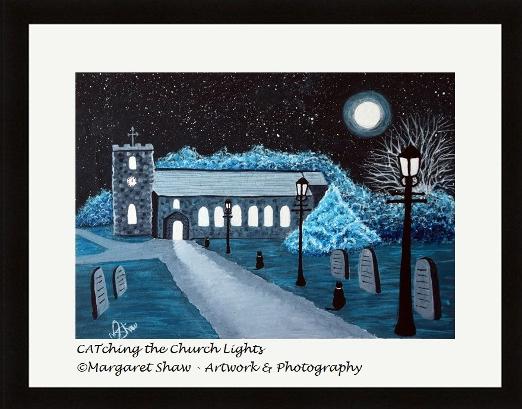 White mount and black frame complete the scene.