I took this moody photo early March 2017.

With a little tweaking and the addition of a few cats we will have a new one for the
CATching series
.
Initial drawing - just deciding where to put the cats.
Think there's a few too many here.

Transferred the drawing onto the watercolour paper and started painting.
Masked out the moon and the stars and washed the sky with a mixture of pthalo blue and paynes grey.
Lifted out the aurora around the moon.
Some paint has slipped under the masking fluid but the moon will be patterned so that will be covered.
Will use white gouache to round off the moon edges.
Washed in the land behind the wall with watery paynes grey and used a slightly stronger mix in front of the wall.
Lifted off where the light cones through the gap in the wall.
Background bushes were worked with a thick mix of pthalo blue,
then dropped in from the bottom a blue / grey mix and finally pure grey.
Painted the posts grey and lifted out the lighter areas with a fine brush.
Added some stone patterns to the wall.

Lifted the marks out of the moon and added some "moon patterns". Tidied up with white gouache.
Created a shadowed area behind the wall working with the roundness of the moon
and leading the eye through the gate into the picture.
Weak blue mixture dotted into the stones of the wall - but leaving the top stones white.
Texture added to the foreground.
Tree marked in with weak grey mix.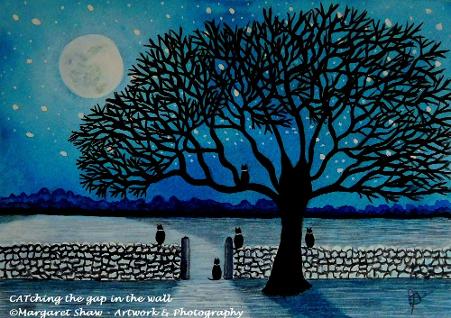 The last steps:
Fill in the tree - emphasising the shape of the cats head in the middle and making sure that the
tree branches stated within the required area. I know what I'm like for growing trees.
Went over the dark areas in the wall to create more contrast.
Put in the shadows from the tree and the wall and slightly darkened the ground areas,
adding a small shadow from the moon to the left of the middle ground.
Put in the cats - and couldn't resist having one in the tree.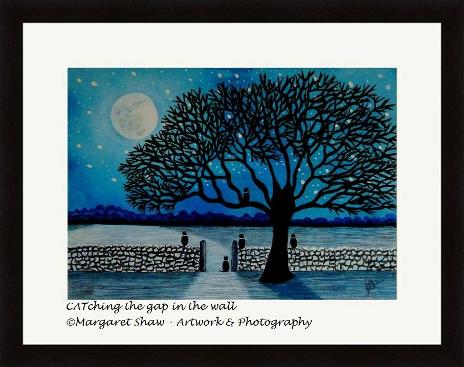 Have painted a paler cream mount white as that looked better
and as I write hubby is making the black frame.