I liked the quirkiness of the small lighthouse sitting at the edge of this harbour
and thought some cats may add an even quirkier dimension.

So CATching the harbour light came into creation.

Here's the composition sketch.

I though those harbour stumps look like buckets so needed to make them less straight.

Transferred drawing to watercolour paper.

Realised the steps of the lighthouse were wrong so corrected and sorted out "the buckets".

Masked out the moon ( not very successfully as I got a lob sided grin on the moon and a wonky edge ).
Splattered the masking fluid with a toothbrush to give me lots of stars in the night sky.
Pthalo blue and paynes grey mix used for a dark sky then lifted out the moons halo.

First washes in place. Can't say I'm loving the lighthouse - can feel a colour change coming on.

Lighthouse colour changed.
Lines and highlights started on water.
Smoothed out the edges on the land at the back.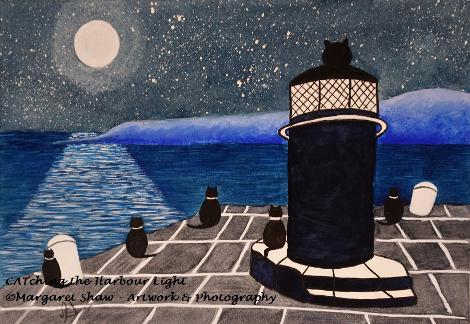 Re-visited the colour of the lighthouse and made even darker.

Top of the lighthouse - black with the cats head added.

Base of the lighthouse added lines and likewise around the light.

Emphasised the ring around the lighthouse.

More highlights on the water and extended the land beyond the water highlights.

Texture added to the harbour based stones and whitened the cracks.

Painted in the cats and decided on 2 more.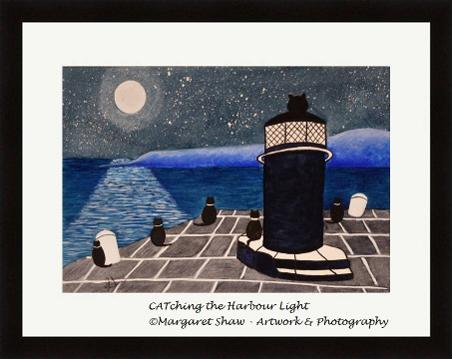 Mounted in white and framed in black.