Since I took this hazy photo a few years ago I've been thinking about using it for my
CATching series.
With a bit of cropping and imagination - here's the prelimary drawing.
The lamp at the back needs to increase in size.
Whilst I appreciate that the perspective will be off - with a painting like this from my imagination
- I don't think that will matter.

Picture transferred to watercolour paper.

Masked the moon and the lamps and then used a toothbrush to spatter masking fluid in the sky to give a milky way effect. Put on the initial wash and dabbed out the aurora of the moon and the lamps.

Added a second wash as the first wasn't dark enough and dabbed out the auroras again.

This has resulted in an uneven wash but hopefully when the trees and the lamps are added this will not be as obvious. Rubbed off the masking fluid and do like the stars from the spattering.

Some of the paper tore round the moon when masking fluid lifted
so gouache to the reuse and can see another coat needed.

Tidied up the edges of the auroras.

Added a little foreground colour - am thinking of having a stone path

More gouache on the moon - that's looking much better.

Background bushes in place.
Sticking with the colours used for the CATching series -

Ultramarine blue, pthalo blue, prussian blue, paynes grey, ivory black and white gouache.

Created different textures in the ground areas and added the lamps to ensure tonality was right.
Also re-pencilled in the cats and the tree outlines as they had become lost in the painting.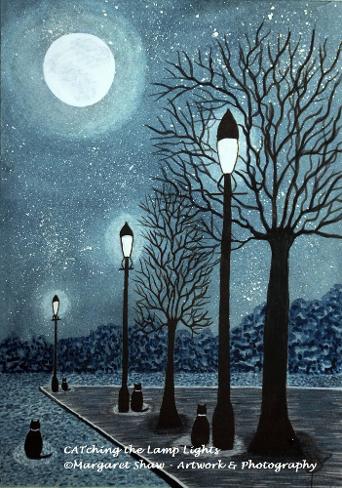 Added the trees and the cats. Shadow and light areas on the ground around the trees and the cats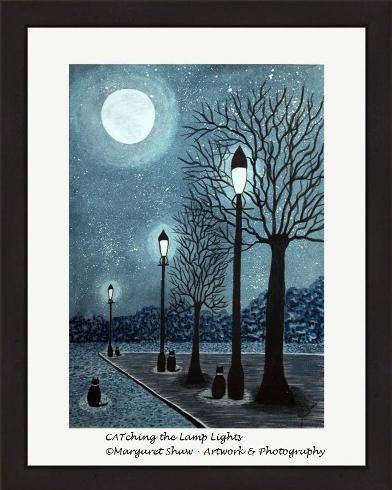 Mounted and framed and for sale.