Staying on the CATching theme ( after enjoying CATching the Christmas Tree )
I decided to re-utilise this photo I took with an idea of having strings of lights between the lamps.
Here's the idea drawn out.
The string of lights will be beaded.
There has been some debate where to place the moon.
Initial watercolour washes in place with blues mixes - ultramarine, colbalt, prussian and a little paynes grey thrown in.
The masking fluid had caused me a few issues and I'll need to work on the area round the moon and fill in some of the stars. Then I'll need to re-mask the lights to do the trees at the back.
The watercolour rescue attempt didn't work. Rather than re-start the picture decided to work with acrylics. Went over all the block areas with acrylic paint. Then added the moon and the trees. Used the same colours in acrylics as I'd been using with the watercolours.
Re drew in and painted the cats, the lamps and the string of lights. Added a small fence across the bottom of the trees.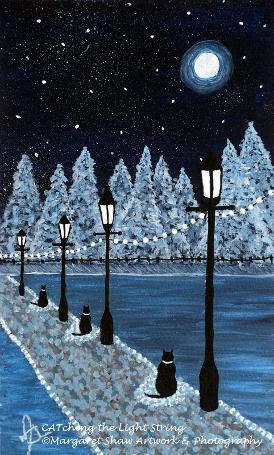 Lastly textured and edged the path and put the cats in spotlights to make them stand out.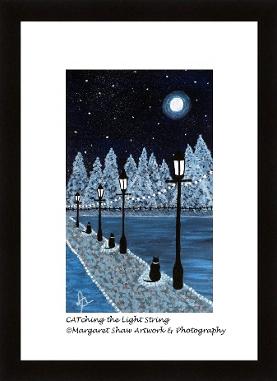 White mount and black frame to complete the work.