From one of my many trips to the North East Coast ( and soon to be going back - February 2020 ). I chose this picture as a demonstration piece in pastel for one of the 2019 art events.
I got the work to the sketch stages prior to the event so I could show people my approach to my artwork and then it has sat in the work in progress pile for several months. Storm Dennis has given me studio clearout time and this emerged so time to bring it to the top of the pile.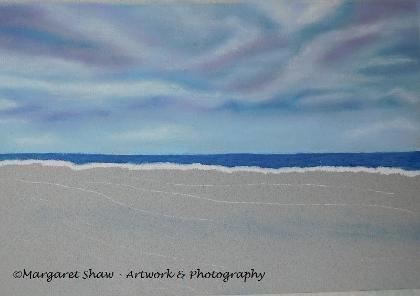 Really like my pastel colour choices. Light, mid and dark blue, mid and dark violet, mid greys and white. First layer of the sea in place.
Few tweaks made to the sky - mainly establishing the white clouds. Lightened the farthest layer of the ocean. Added the next layer and darkened under the wave. 3rd layer of ocean underway.
Continued working forward with the waves, put the blue in, add the next white top and underline the white. Then looking at the overall sea effect,lightened the horizon bit and used light blue and white dashes to the blue areas between the waves to give a similar colour and effect. Put the smooth water in the foreground with sky reflections and a hint of dark wet sand at the front with grey and the darkest blue. Added the white foam of the front wave with dots and dashes of white.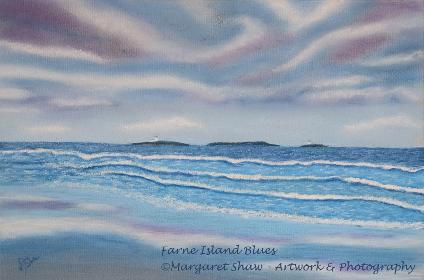 Darkened the blues in the top of the sky. Like wise strengthened the dark in the water foreground along with the cloud reflections. To make the cloud reflections more fuzzy, dragged a blending stick through the pastel which also gave some textrue that can't be seen on the photo. Farne Islands added with little lighthouses. Signed and sealed.