A tranquil evening in Florida saw the rising moon in the beautiful pastel colours of the sunset. One to be painted in pastels as a project to take along to the art group.
Then I thought about another pic I'd taken so maybe 2 artworks?
Which set me about flipping the composition of the portrait one.
Had a play with a water soluble pastel sketch ( colours wrong and too wishy washy ) but made me realise that what I really like about the images is the water. That makes the portrait composition wrong. So now thinking landscape and perhaps with an even balance between the sky and the water - effectively bringing the moon lower and reducing some of the blue. But staying with the colours in the portrait composition to give complimentary blue / orange colours. Definitely to be worked with pastels for some strength of colour.
Got out the sketch paper and tried a mid point horizon which looked odd without any shrubbery reflections so put them in. Onto the pastel paper starting with mid horizon line and positioning the moon ( unfortunately too far to the right ). Selected some turquoise and peaches and found that peach into turquoise and turquoise into peach does not go and had some suspicious grey like greens. Tried my idea of broken water with small dashes and like the impressionistic effect.
A bit of cropping of the sketches has moved the water line at 1/3rd up the picture. Next twiddled with one of the reference photos in photoshop - water line at the 1/3rd mark, moving the moon and taking some of the blue out of the sky. Ditch the reflections and I think I have my composition and colours. What on first thoughts should be a fairly simple picture is taking some thinking about to do this beautiful scene justice with the pastels.
First pastel session resolved the green grey issue by using blue rather than turquoise.
Added some greys and pinks to strengthen the sky colour and dragged some clouds across the moon. Horizon shrubbery added with olive, brown, dark grey and dotted with the pale peach and pale ochres in the sky. Used a dark grey pencil to define the pines and palm trees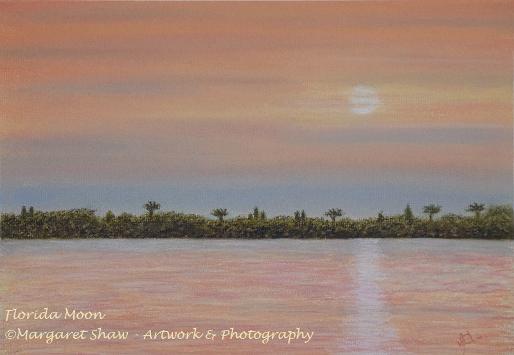 Water completed with all the sky colours building up fine lines with more concentrated blue / grey at the horizion line. Then pulled fine blender across the work to make the colours really intermingle. White highlights for the moons reflections and finally more darks added to the foliage to contrast. Signed and fixed.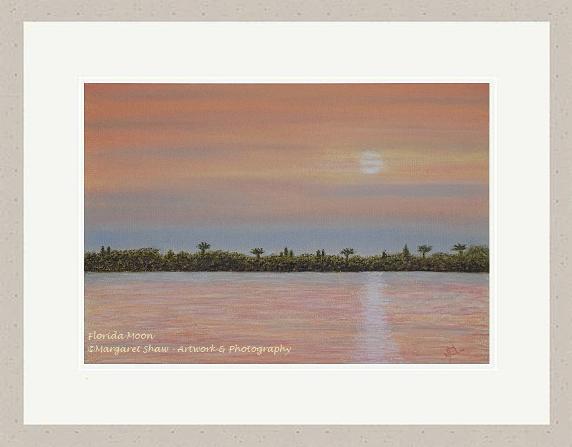 Mounted and going into a pale grey frame.