These early Lambs were so cute and joopus and seemed to be saying "Come Play".
I thought pastel on black paper to show the white of the lambs and to have a hint of background
a few grasses and the hedge coming over?

To help with the layout of this I've drew the outlines on a printed paper
to enable me to sort out heads from tails particularly for the lambs on the left.
There was one lamb on the right whose head is in the grass
and whose bottom is sticking out from behind the others - thought I may leave this one out of the image.

Went for the black paper and within the drawing found the bunch on the right to complex
and not really adding to the scene so simplified that to three.
As this is about A4 size I think most will be done with pastels.

Made a start with the pastels. Decided that I didn't like the background so blacked out.

On reflection decided that I didn't like where this was going - the pastels weren't doing it for me
and I was getting everything covered in the black pastel I'd used to disguise the background.
I re-started and took out 2 of the lambs who were facing away.
I've also decided to work this in charcoal pencils using white, light, medium and dark
and will decide on other tints once the lambs are finished.
Thinking that the fineness of the pencils is working better for the lambs.

Four and a half lambs filled in and I'm liking where this is heading.

On the last lamb - slow work but I'm enjoying this one - just need to figure out the background.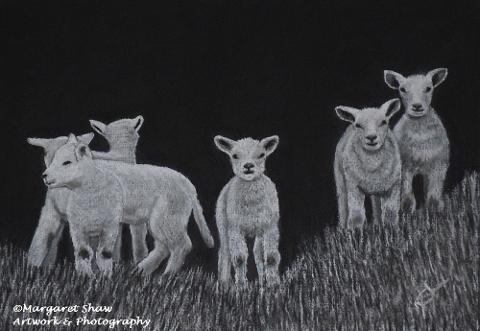 Put the legs on the final lamb and then added the grasses with a combination of charcoal and pastel.
Decided that the background should be plain so went over with black pastel.

Being Pastel and Charcoal mounted and framed.