When running a Pastel Session I was asked by a 6 year old how to do Starry Night. Being obliging I made a start on a demo piece. Working from a small image I got on the mobile phone.
Here's where I was at the end of the session. Things aren't quite in the right place but I think we have the general gist
Added a couple more stars and started to add more highlights to the existing ones. Not the same number or positions as Vincents but too late to change. Drew in some buildings - again fewer than the original but I'm working on a different shape of paper so some cropping had occurred. Blocked in the other features and now I'm ready to start adding texture and doing allot more mark making.
So after pastel session 3 this is where we are. Lots more mark making in the sky and on the mountains and getting more shades of blue in there. Orange and black added to the pallet and used blending sticks to create texture. Added the black outlines to the mountains and filled in some more of the tree.
Completed the left side of the picture with mountains and swirls, then added the bending pastel strokes into the tree. Emphasised the outlines in the mountains.
Decided that the swirls at the bottom left were too brown so added more blue. Put in the 3rd layer of hills - little bit greeny in places . Added the last hills in orange and added orange and ochres to the tree.
Re-blued the greeny mountains but then greened the swirls at the left. Decided that I needed more village so added a few extra buildings and reduced what I think to be ploughed fields at the right. After putting all blue around the village I changed my mind and put some trees in place using olive and ochre. Then put hints of olive in the sky and the tree My village is allot brighter than Vincents but I'd made quite a few changes to this as I'd gone along and there was allot of pastel on the paper that was starting to smudge easily. I outlined the trees and the village.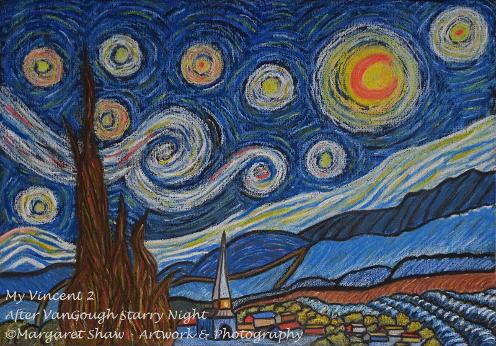 Put in the lines at the bottom right and outlined those. Signed and Sealed which has dulled the image a little but with so much pastel it was necessary.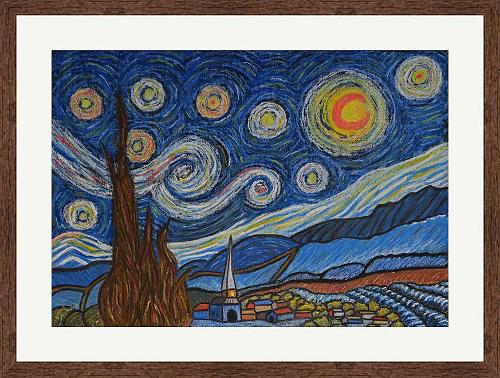 Deciding whether to frame - Walnut frame seems like it may work well.