I attended a pastel workshop at the art group on the topic of seascapes. So I took along one of my Northumberland Coastal shots as the subject. We had a very interesting demo by Catherine Inglis before getting to work.
I wasn't rushing this so here's where I was at the end of the workshop. Enjoyed applying several different blues to get the tonal range in the water. Decided to make up my own sky.
Added a few lights in the water and some semi submerged rocks. A few splashes addedon the main wave and filled in a couple more sections of the water. Highlighted the clouds.
As I near the front of the picture I have to decide do I put in the birds or how about a boat as in this picture taken at the same spot. Watch this space.
Added some more colour into the clouds and a few wispy clouds above the horizon line. Straightened the horizon line (still needs a little more work s there is a bump in the middle ). Knocked back the distant peninusla with the castle on top by adding and blending in some white. Increased the size of the mid peninusla and made the shoreline more interesting. Completed the sea and added the small sandbank and front shoreline ( browns and yellow ochre ). Thinking I'm going for the birds. A few rocks to be added mid shoreline and maybe incorporate some of the ochre into the mid peninusla on the right. Grasses on the bottom right should complete the scene.
Ochre added to the mid peninsula at the base. A little ochre in the clouds. Rocks in the middle shoreline. Widened and added splashes to the waves at the left of the picture. Darkened the bottom right sand. Added grasses (initially too long) so the darkened sand sorted those out. Did try a bird and removed it - need to practice on spare paper and will probably have to do with pastel pencils.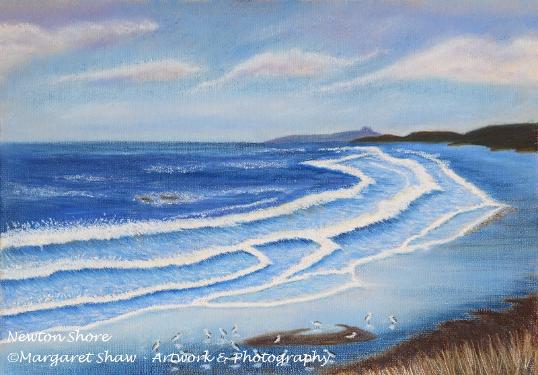 Birds and reflections added with pastel pencil and then re-touched with blade of white pastel.
Highlighted the grasses.