Another for any itinerary on a visit to Kirkby Stephen - Pendragon Castle. Definitely one of the homes of lady Anne Clifford. Rumoured to have been the home of Luther Pendragon father of King Arthur. Now a ruin but irrespective an interesting place in beautiful scenery.
Transferred to watercolour paper and washes added ( with a few runbacks so a little sorting out required ).
Strengthened the sky and the background fells. Sky still needs a little more darkening at the right of the work.
Using different shades and strengths of grey from an ultramarine and burnt umber mix blocked in the castle. Paynes grey for the dark portals. Then realised that, for some reason, I'd left a gap at the side of the castle that should be background fells. So returned to the background and repainted with stronger colour mixes (quite like this now). Different shades of green from ultramarine blue and gamboge yellow mixed for the bushes. Re-drew in the trees and same greens as the bushes dotted as leaves. Unable to see the lower leaves so need to re-dot with undiluted paint or gouache. Random grey marked onto the castle walls to represent stone.
Added some darker areas to the trees along with trunks and branches. Finished the stones on the castle and darkened some of the areas. Added shadows across the front of the castle walls with purple mix. Worked on the grass with tones of green - using sap green as the base with yellow and ultramarine to create the tones. With the darkest tone put in shadow from the trees and the castle.
Opened up the trees with some white / blue gouache mix. Added purple and red/brown ( as the fell colours ) to the shadows. Before committing the sheep to the picture had a little practice on the spare paper at the bottom of the board.
Had been debating whether or not to put in some sheep and decided yes. Did some small sheep outlines on tracing paper and the positioned these in the picture. Used white tracedown to transfer the outlines and then filled in with watercolour pencils.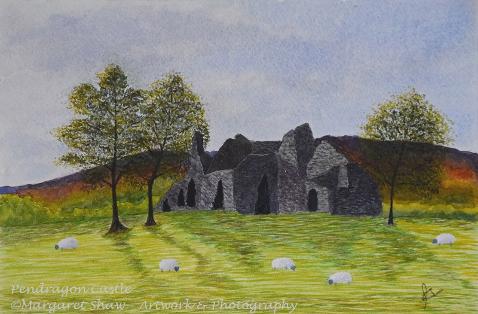 Used gouache to paint in the sheep. Spotted a yellow blotch at the right side of the paining that I didn't like so sorted that out. Signed.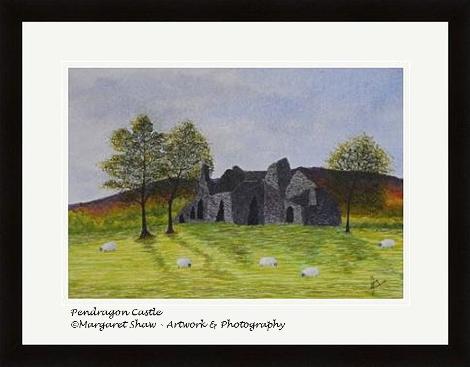 Decided on a black frame.