After the success of my
black cat drawing
I decided to try another animal profile.
I photogaphed this pony a couple of years ago on holiday as
1. he/she was very partial to carrots and apples and always came to the fence to investigate
2. if feeling particularly naughty would try to give you a nip as you climbed over the nearby style
( probably if you didn't have the required carrot / apple bribe ).
Firstly a drawing - animal profiles are a new topic for me

Transferred drawing to pastel paper and put in the background / fence with pastel.
Planning to draw the pony using tinted charcoal as the colours of the charcoal look just about right.

Decided that I didn't like the background so re-started with a fresh drawing transfer and did a plain background.

Started to draw in the pony and still the background wasn't doing it for me so lightened and made more uniform.
Gettng the shading and the shaping of the pony features is quite a challenge.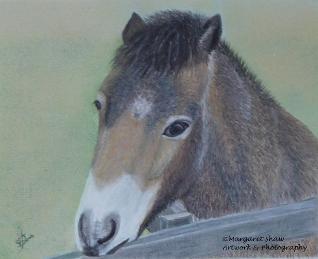 I got the hang of the shaping by studying the shades and tones and making small marks.
Then blending together where the colours change.
Last items were highlighting the lights and darkening the darks.
Popped the fence in with pastels and bokd strokes.

As this needed to get to its new owner, mounted, framed and posted same day.