I took this photo some years ago at Acorn Bank.
I love the light, colours and vibrancy but the photo isn't as clear as ideally I'd like.
Decided to make it into a painting.

I've did an outline drawing on pastel paper with pastel pencils and have decided to work from the butterfly outwards.

Not feeling too sure that pastels are the right way to go with this and may re-start with gouache or acrylic inks.

Will decide after a little more work.

I took this along to the art group and forgot the reference material.
The flowers were wrong - bigger centres and many less petals needed with the top flower completely out of position.
I'm also felt that the butterfly is not in congruence with the flowers.
I did like the background.
Had a re-draw a and decided to make the butterflies wings more equal - so now the picture was leaving the page.
After a think realised that the increased size of the wing means that the bottom flower needed re-positioning
and the shape of the paper was going to be wrong.
I also decided that there were still too many petals and I needed to concentrate more on the negative shapes.
Getting frustrated at this point I re-jigged the image on the pc and printed.
Then the tracing paper came out to help me get the wings equal
and move the bottom flower to the correct position under the wing.
This is more what I wanted but there was a big gap at the top of the paper.
So on transferring the image onto the pastel paper I moved the picture towards the top left
and decided to fully utilise the tracing to add the edges of two more flowers into the image.
Used pastel pencil for the outlines and established the negatives.
Managed to polish the paper in the bottom flower so need to try and get the pastel to stick better.
Solved the issue of the polished paper by gently scratching at the surface with the tip of a sharp knife.
Have started to add colour to the drawing with pastels and pastel pencils.
Worked the flowers and the butterfly with a combination of pastel pencils and pastels ( lightening the top flower ).
Started to add the background with pastels.

Almost completed blending the background.
Thinking the butterfly needs to be more in synch with the flowers.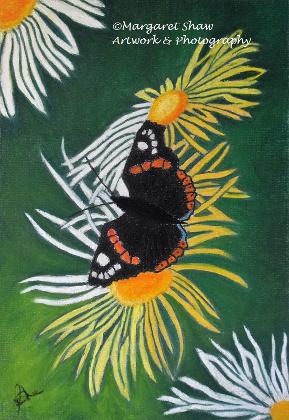 Added more pastel to the background emphasising from light at the bottom left to dark at the top right.
Re-captured some of the whites by scraping with a sharp knife at the pastel laid down and going over with white. Added orange to the red patches on the wings and went over the dark wing areas with dark brown.
Few highlights in the flower centres and signed.
Presented in white mount and black frame.