I took this picture of Sandend whilst on holiday on the Moray Firth ( Jul 2018 ).
The place is stunning - so much so that I've booked a holiday to go staythere in 2019.
Here's the outline drawing about A3 - media to be decided.
I've decided to defer working on this as its only a few weeks off my visit to Sandend. Having seen several stunning photos of the place may well get a better image to work from on my visit.
Well I did take the holiday at Sandend (May 2019) and was spoilt for choice of view as this was I opened my eyes to each morning. I particularly like the colours in this photo so plan to combine it with the composition of the previous photo (May 2018). So here we are 18 months on from the first drawing (Oct 2019)and I have finally made a serious start.
Sky worked with 2 shades of blue creating a graduating tonal range from top to bottom. Clouds white, pale grey and purple. Purple and white for the distant hills and dark blue green / dark olive for the top of the shoreline. I'm using my new set of SAA pastels so learning as I go along.
Far shore worked with yellow ochres, umbers, dark greens and a little black. Need to put some ochres into the middle dark green to break it up. Couple of harder pastels used from my old set for a few fine details of the little houses to the left of the right side hill.
Lightened the dark green middle hill. Blocked in the sea. Marked out the waves. Put some darker waves forming at the left of the picture. Then working left to right put in the wave crests and the foam.
Completed all the wave crests and foam and added a little yellow ochre between the waves at the right of the picture to represent the sand showing through the water. Quite relieved to find the yellow ochre remained yellow and didn't make the sea green. Marked out the rocks at the front if the picture.
Blocked in the rocks - now need to rough them up with a few dots and dashes.
Dot a few more rocks in the sea and add foam around the edges.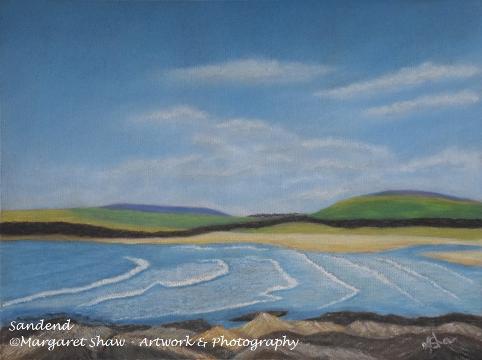 Roughed up the rocks and changed the colours to fit in more with the distant shoreline. Dotted some rocks into the water at the left. Added some dark areas to the water and the sand. Blued the distant hills. Signed as finished.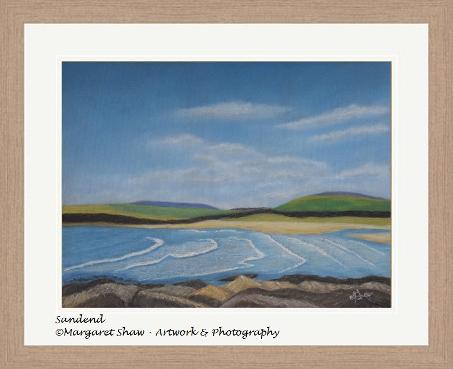 And as this is pastel - into a mount and frame.