Taken on the last day of the decade ( New Years Eve 2019 ) this one was asking for the watercolour treatment. Although that mist on the top of the fell may take some working out.
Attempt 1 did not go well and ended up with blotches and lack of tonality. I knew this was going to be a difficult one so here's the start of attempt 2 where I put extra guidelines in the mid fell area.
I realised that on the previous attempt I'd got the colour choices wrong so took the coloured pencils to the sketch and need a cool / neutural pallet with a little warm green.
Attempt No 2 - the harder I tried the worse things got. This is a small picture and the watercolours were not giving me the results I wanted and I was unable to make changes with this unforgiving medium. No2 went in the bin.
No 3 started with pastel, pastel pencils and tinted charcoal. Sky worked with pale blue and light grey and fell with purple, pale blue and white.
Added purple and ochre to the clouds and blended together with white pastel. Decided that I could see ochre in the fell so gently went over the top of the purple, then a little more white along the top of the fell and very softly blended to create the mist coming down the fell. Moved forward to the middle land and introduced brown and olive into the colours to fill in the middle fell. Used some white and light ochre to lighten the greens so that mid tones would help create distance perspective from the strong colours planned for the front. Started on the pines at the middle right.
Worked the pines starting with pencils -brown, then adding pine green - sideways dashes to give a conifer effect.
Next job the trees. Drawn with the darkest charcoal pencil for the large trees and a mid tone for the smaller trees. Realised that the pine trees weren't dark enough so some black charcoal added to those.
Onto the foreground. Introduced a dark green onto the pallet to increase the colour strength of the foreground. Worked the left field and used brown for the drop in the fallows. Pale greycharcoal for the wall.
Onto the right. Put in the light areas with an ochre pastel pencil. Dark drop in the fallows was built up from dark green, to brown and finishing with black against the light areas. Added some green on top of the ochre. Put some pale blue in the wall and a little white on top. Darker green dashes into the green area at the left.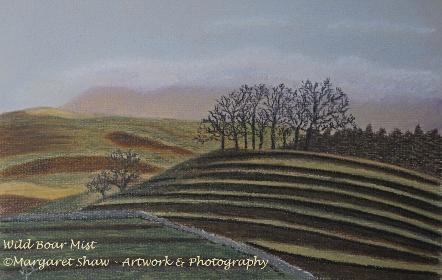 Returned to the mid ground to do a little re-shaping and added a few dashes and lines to give some consistency with the foreground. Signed and sealed.