I attended a workshop with my art group for loose inks.
We were encouraged to play so this was started with acrylic inks and using cling film to created interest.

Started with the background on the poppy. Inks and cling film.
Let it dry, then added the poppy and again cling filmed that to create texture in the petals.
Went slightly askew when I added more green into the top left background before the red ink was dry.
The poppy now has some interesting green veins!!

Added extra ink to to smooth out the poppy but tried to leave those green veins - then added some inktense to find some darks and give shape to the poppy. Decided I didn't like the changes in the greens so re-inked and cling filmed the bottom left. The red wasn't dry so this ran into the green - but I think that sort of compliments the green running into the red and I started to think bleeding poppy. This was on fathers days and I'd been thinking allot about my dad who fought in the World War II - seemed appropriate.

In the next painting session, I decided to create more harmony in the background colours so the sap green, yellow and yellow ochre inks came back out - plus clingfilm. Then when that had started to dry it was time to work on the poppy. The acrylics came out - vermillion, scarlet, mid yellow, orange and sap green. Worked the petals of the poppy applying blending and mixing on the paper with the brush strokes following the shape of the petals. Started to like where this is going.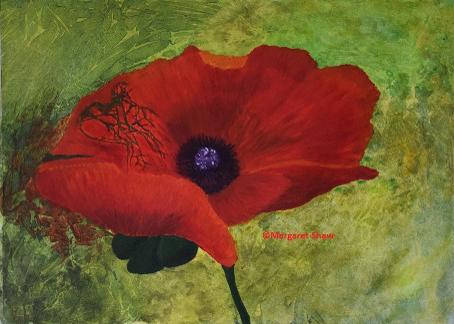 Added a stem and painted in three buds in a dark green. Added the centre of the flower mixing shades of purple from the red and blue used. Tidied up the edge of the petals around the centre and added more texture to the other petals along with reddening the front petal.