A fabulos photo captured on a wonderful cool crisp winter day at Ullswater

Started by scaling up a drawing to painting size - in this case 20 x 16.


Transferred the drawing onto a canvas board and did an underpainting to lock things in place.

Used a mixture of winsor blue and mixing white to get the blues on the board

Colbalt Blue, Titanium White and Cad red used for clouds.
Put the sun in titanium white and worked out from the sun adding colbalt blue to the white
so the painting darkens towards the edges.
Likewise with the water, working out from the lighter areas to darker edges.


Little more work on the clouds to create more darkness at the left.
Painted the mountains creating distance perspective with light to dark tonal values.

Onto the water creating movement starting with dark blues and working toward white


More highlighting in the centre of the painting, clouds and water.
Highlights onto the tops of the mountains.
Painted in the tops of the jetty rocks.
Glazed over the top of the water.

I wanted some sharp edges for the sides of the rocks so needed them dry.
Whilst waiting added the fence and made a start on the trees.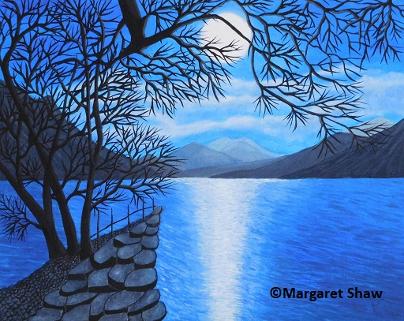 The final elements were:
To complete the rocks.
Paint in the branches using smaller brushes at each junction.
Add highlights to the branches and the fence.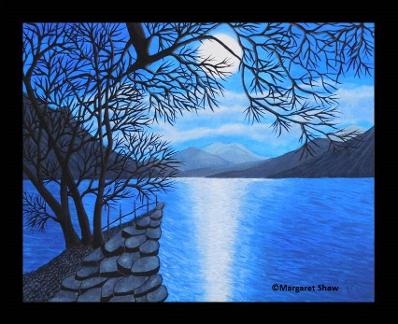 No mount as painted on canvas board.
Framed.