The fourth in the Highland Light Series. From one of my many trips to the Moray Firth.
This will be painted with Acrylic on canvas to compliment Highland Light 1 & Highland Light 2.
However this one will be larger ( 50 x 40 cm canvas )
Started by establishing the layout with the focus very much on the sea.
Underpainting in place so I don't loose the main bodies of colour.
Work will move towards grey/blue as the top coats go into place and a blended transition between the areas.
Started on the top coats. Colours used, paynes grey, white (mixing and titanium), grey mixed from colbalt blue and raw umber, violet. Painted in the sky with a pale grey mix and added the clouds. Used light violet for the distant shore and added some blue to the mix for the nearer shores. Blue grey mix for the bulk of the water ( which is a little dark but I will add highlights as I carry on ). Paynes grey for the darker areas and paynes grey white mix for the lightest greys. I was trying my latest purchase of acrylic paints to findout how they look and feel.
I painted in the white areas with titanium white and decided that the dark areas were too dark. Lightened the clouds in the sky ( once these are dry I'm thinking a few white highlights art the top of the clouds). The purple distant shore was too purple so greyed that down ( may need some more). Mixed a batch of lighter blue/grey and went over all the darker areas of the sea adding white or paynes grey for the different blocks. Lastly working top to bottom added small lines in the full range of grey blue tones to create a sense of water and allow transition from the light to the dark areas.
Greyed the distant shore - looks better. Working forwards put in the water lines making the lines longer and thicker to create some distance perspective. Had some very sharp edges that needed to be softened and a more gradual tonal change from the light to the dark areas.
Some softening of edges and decided to make the three prongs on the right more like the area behind it.
Completed the softening of the edges and the transitions from light to dark. Put in the rocks and the boats.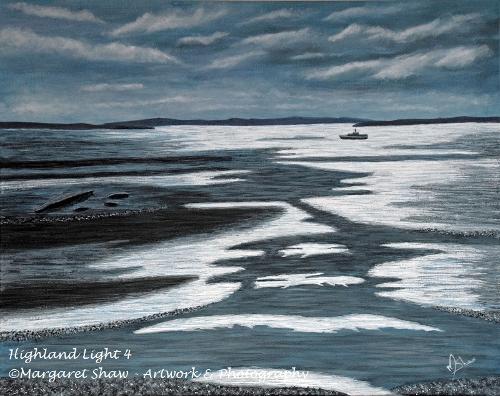 Changed the shape of the largest rock and knocked back the white on the top of all the rocks. Decided that one larger boat looked better so increased size of middle boat and painted out the other two. Added more white in the centre of the painting,more highlights in the clouds and more lights and texture on the mid tone areas. Lastly some pebbles dotted at the front and edges. Signed.
Black floating frame will complete the work.