Quite a seasonal picture that I've left with my students as homework over the festive season
( if they want to ) using pastels.
Setting off with a drawing sized to 23 x 15 cm
We've agreed that working on dark paper would be a good choice for this one.
So here's my drawing transferred to pastel paper.
I've already altered the top leaf as It didn't look right.
Pastelling started with leaves - applying dark to light greens and blending,
with highlights on the edges and along the veins
The highlights were too bold so have narrowed them with the blender
and have made changes to the shape off the 2nd leaf.
Feeling that I may lift the out the veinsand re-do finer with pastel pencil.
Refined the 2 leaves and then continued with the rest using light olive through to a hookers dark green pastels.
Worked the veins and the highlights with yellow ochre and pale yellow pastel pencils.
Berries with an orange/red and white highlights.
Next decision - what to do with the background.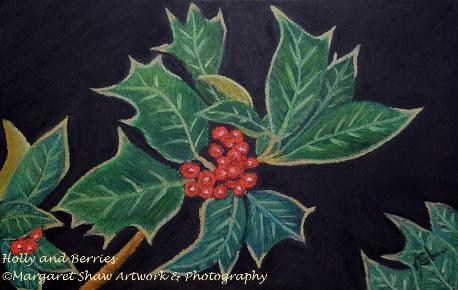 I did try to out some vague leaves and berries in the background
- but they detracted from the focused so took to the background with black pastel and covered up.
Then with sharp yellow pastel pencils re-highlighted the edges of the leaves and the veins.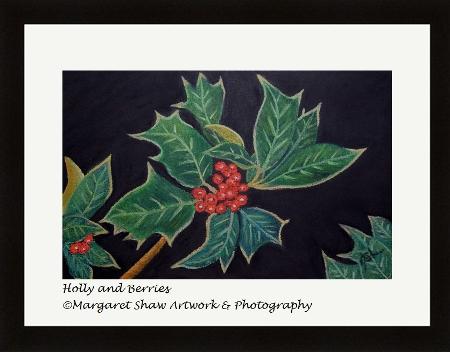 White mount and black frame add the finishing touches.