This one was started by accident as I went to the art group one morning and realised that whilst I had pencils,
pastels etc I'd forgotten the key ingredient - a piece of artwork underway.
I routed through the cupboards and found some blue pastel paper - so a seascape seemed like the thing to do.
As I had my I pad with me containing several of my photos this was the one I made a start on.

Placed some outlines on the paper. Picked some blues and started.
Could see that the distant shoreline is too big and the horizon line from the sea isn't straight.
Having never done a sea scape like this in pastel - decided this should be interesting,

Reduced the distant hills and added some shading to create interest and shape.
Straightened up the shoreline.
Working the sea from distant too near I was pleased with the way the waves were coming along.

I continued to fill in the water working lighter at the front of the scene and blending the blues together.
Added the bit of dark shoreline.
Marked out the position of the wreck with a cotton bud and
used the same pastels for the wreck as I had for the shoreline.
Made sure that the last piece of wood in the wreck was
surrounded by crashing water by adding bits of dark and dotting white over the top.
Few shadows and highlights completed the scene.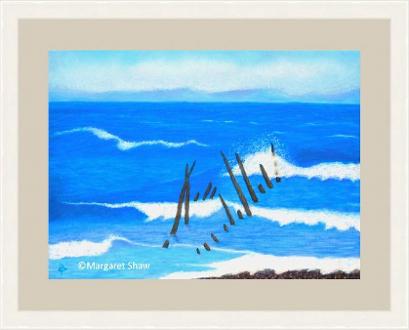 Into a grey mount and white frame to protect the artwork.