Photo to be completed as a painting because I couldn't get the print of the photo to look as I wanted. With a couple of long and thin canvases in the cupboard the first step has been to crop the picture which I think is giving an evenly balanced composition with a nice depth and transition of colours. I like the difussed light reflection in the water. This will be one of a pair with moody blues 2.
Quick underpainting - too many clouds
Remove some clouds - now need to add more orange, get the highlights in place and put some wispy clouds back.
Removed the clouds at the top of the painting and added pale orange and pale pink into the lower clouds. Added blues and purples into the sky. Horizon hills started with pale blue / purple at the back adding red to the mixture coming forward into the middle hills and more red at the front.
Blanked out the water with a blue / purple to give me a fresh start as I'd altered the clouds the orange didn't fit.
Fine coloured lines added into the water. Is it done or does it need some highlights in the water?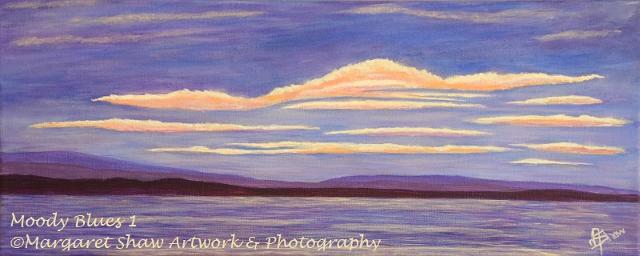 After some deliberation I decided it wasn't done. Highlights were needed in the water so initially added quite finely and after studying the reference photo they needed to be more bold. I decided to glaze to have the blue showing through the pale orange. Next re-visited the sky and added wispy clouds at the top. Lightened the sky under the clouds with the same glaze as used for the water plus some pale blue glaze. Photographed this carefully and twiddled with photoshop to gave a good representation of the colours. This is as near to the original as I can get.