These 2 beautiful creatures have taken up residence on the lake at Sizergh Castle ( Feb 2017 ).
On a dull grey day they made an interesting contrast to the reflected greys from the clouds
and blacks from the bare tree braanches in the almost still water.
The drawing (about A4) was not easy - particularly the angled swan at the back.
I've got this as good as I think I'm going to get it.
Will probably change the positions of the reflected branches and the grasses at the painting stage.

Transferred to pastel paper and not happy with the heads of both birds.
The back one looks more goose like and the front one seems to have an enormous beak.
Alterations required at pastel application!

Pastel application got underway.
Worked the swans with pastel sticks of white, cream, light and dark grey.
Then used blending sticks to create lines and texture.
Changed to pastel pencils for the beak - the back swan needed his beak tweaking.

Little more work on the shading and tweaked the beak.

Added the reflections using a darker grey as reflections in water are darker that the subject.

Using white light grey and a medium grey added some marks to make the water.
This meant that the tail refelctions needed darkening and it was necessary to input the water line.
So used a dark grey to do this.

Used fingers to smooth the water and I don't think this is far off being completed.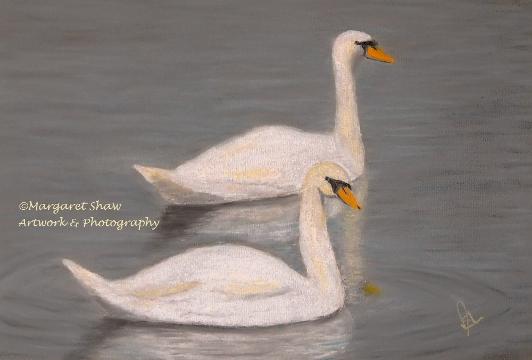 Decided to darken the water slightly and this meant that the underside of the swan also needed darkening.
Tidied up a couple of smudged areas and emphasised the shadow under the chin of the back swan.