The photo was taken a few years ago whilst one one of my Highlands visits.
I liked the formation of the rocks and the contrasts of light and dark.
Whilst away I did this sketch ( if thathad been on better paper I'd have been tempted to mount and frame ).
Three years later we return to the picture ( can't wait for someone to ask me how long this one took ).
Did a drawing on pastel paper which wasn't going well - the drawing was wrong with too much focus on the sky.
The waste bin beckoned
Back to the drawing board, moved the skyline up and narrowed the landscape.
Then started to pastel and can see already that I'm way to dark in the sky
so white and pale grey will needed at the next session.
Lots of pale grey, pale blue and white layers added to the sky with lots of blending done with fingers and blenders.
Started to put in the land with tinted charcoal to establish the lights and the darks forming the land shapes.
First pastelling session. Needed to sort out the middle rocks and the line at the top of the mountain.
Sorted out the land line and the rocks and did a bit of darkening on the land.
Continued working down the picture getting in the base pastel layer.
Must remember to tap the pastel down the picture so as not to get dark bits in the sky.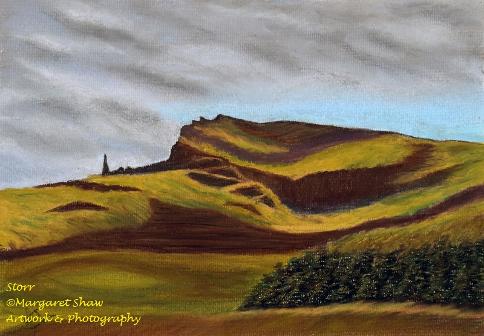 Re - worked the middle ground as on close scrutiny of the photo
I could see that the land was more stair like than horizontal.
Added a vague foreground, catching the bowl shape in the bottom left.
Dots - dashes making inverted V's for the pines at the front.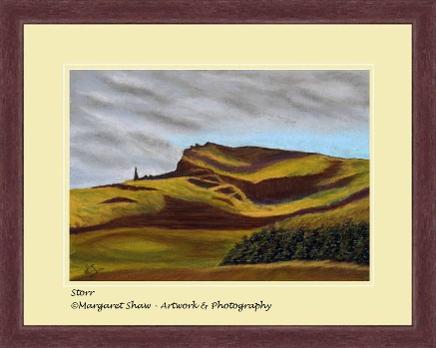 Mounted and framed to protect the pastel.