From one of my trips to the Northumberland Coast - a sunset taken through the grasses at Beadnell Beach.
Did a sketch whilst away and liked how this looked.
Marked out for a 20x16 board to be painted with acrylics.
Started by putting an orange ground on the board. Then worked the sky. Colours used - paynes grey, burgundy, Prussian blue, colbalt blue, white, lemon yellow & cadmium orange worked the sky. Colours blocked in and constantly blended working from large brushes at the top to smaller brushes at the bottom. Discovered I need a new blending brush when the current one kept moulting. Towards the end ( as usual ) found that fingers give me the final blend I want. Marked out the water area with the leftover paint.
Painted in the sand with vandyke brown and white mixes - allowing the orange ground to show through. Used the Vandyke brown and pthalo blue to make a dark grey and painted in the far sand dunes. Back to the sky colours and initially blended the water reflecting the sky. Then decided to put in my trademark water lines to make the water move as this is the ocean. Now allowing drying time before tidying up the water line.
Tided up the waterline. To ensure that I didn't go overboard on the grasses drew them in watercolour pencil and then painted them in with a loaded rigger brush. I didn't wasn't a harsh set of black lines at the bottom of the picture so used some of the reds and yellow from the sky colours to work in some shorter grasses.
Tried to decide "is it finished" I used paint on the computer to add some squiggles to the grasses. I liked this so decided that squiggles will be added to the grasses ( making sure that I didn't get carried away ).
Reached the "are we there stage?". Or maybea 3rd grass head style and then done?
Back to paint to try the 3rd style of grassheads and liked this. However more grass heads in the middle were too much so obliterated them.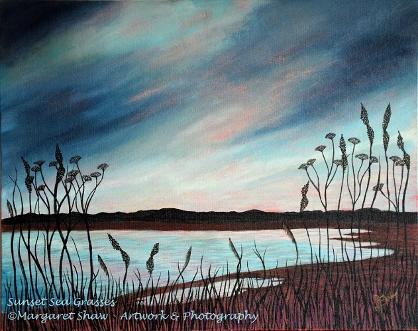 Deliberated for a day before deciding "done". Signed and varnished.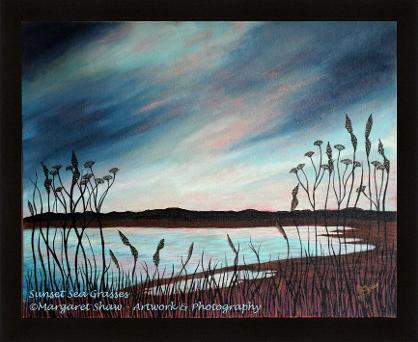 Into a black frame ready for show.