Three Hares One Moon is from my imagination. Inspired by my recent CATs, I decided that I could stay on the same theme but using hares instead of cats. When the in house art critic said "bunnies" I knew I'd some re-shaping to do.
Put the image onto tracing paper and in the process did some elongating and slimming of the bodies / legs.
Re-shaped the heads and decided the center hare would be a back view.
Transferred the image to a canvas I'd prepared with a dark blue overall coating
using white tracedown paper as I wanted to see the stylised design of my hares.
Under-painting underway by filling in the moon with mixing white and the sky with blueand paynes grey mix.
Painted the hares with mars black. Added features with light greys.
Ground painted with medium grey. Titanium white on the moon ( still needs some more layers ).
Final layer of blue / black to the sky
Now for some thinking time whilst I decide where this is going and what to add ( stars, grasses etc ).
Maybe do the moon silver / white?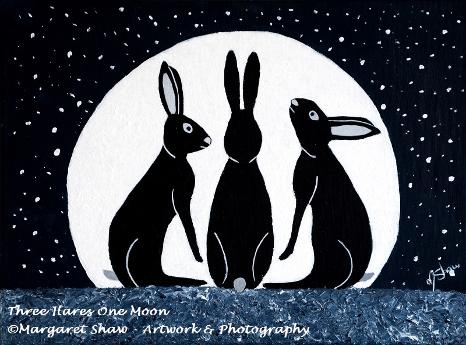 The Moon remained pure white and is textured.
Also textured the ground with a very loose mix of all the colours used.
Added a canopy of stars or snowflakes ( that's up to the viewer )/.
Signed and sealed.