Whilst I was at
Acorn Bank
recording my nomination for
Cumbrias Top 50 Trees
I took this lovely autumnal photograph.
I'd already made a start on painting the tree in winter from a different viewpoint
and decided to do this one as well.
Who knows there could be a spring and summer version on the horizon.
Initial drawing to size up composition to A3 paper

Transferred to Pastel Paper and pastelling started

Randomised the shrubs at the back as they were too uniform.
Tree work started after some consideration of how to approach this.
Decided to put vague tree markers in with the intent of me stopping my usual trick of wildly expanding trees.

Foliage well underway. Need to close in some of the left gaps and
establish the darker areas whilst softenting that distinct trunk curve.

Filled in the trunk - needs to have the twists properly marked out.
Started to blend in the leaf colours to push the pastel into the paper

Blended all the leaves and studied the twist on the trunk.
Completed the ground.
Felt like this needed some more lights so looked for the highlights.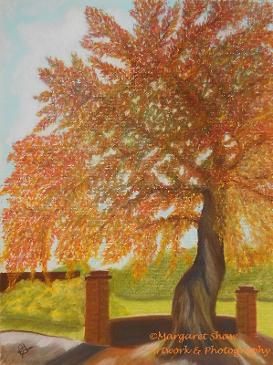 Added some highlights:
in the centre of the darker leaves to break them up
along the wall edge and the wall posts
along the ground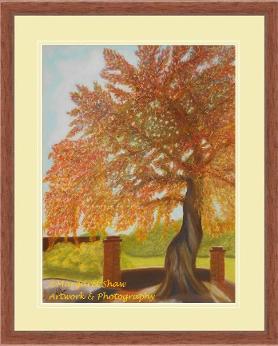 Finished off with cream mount and teak frame. Painting is planned to go on exhibition with Cumbrias Top 50 trees.