On my wanders around my home town, I took this stunning photo of Wild Boar Fell overlooking Wharton Hall.
I'd bought some new pastel pencils and thought I had the opportunity to put the 2 together.

Step 1 - drawing scaled up to get proportions right and key items in place and I can already see a few tweaks.

1st layer of pastel in the sky - marks and blocking using turquiose, light blue, white, purple, dark blue and light grey

1st layer of sky rubbed in and second layer applied trying to get more shape and refinement

2nd layer blended and starting to work on final layer to break up some of the dark areas and punch up the highlights.

Put some additional white clouds into the sky and used light grey to break up the darker areas.
Selected olive greens and purples for the foreground.

Blended the hills and placed in the buildings - started to mark out the lightest areas in the foreground.

Continuing to work on the foreground added the mid tonal areas and used purple for the darkest areas.
Added he first line of trees with pastel pencil (pine green) and can see they need making larger.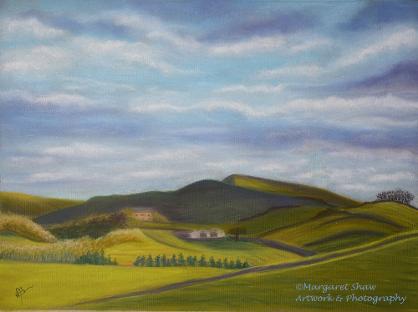 Completed the trees and then started to add the finer details - contours of the land,
trees on the right, wharton oak in the middle. Lastly reviewed the work for the lightest and darkest areas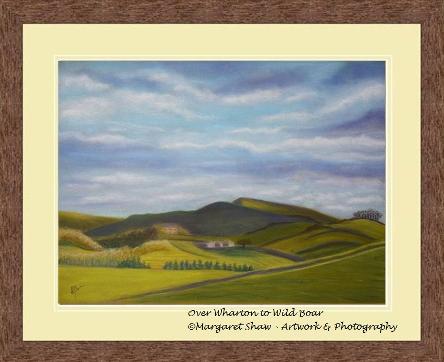 Framed to protect the pastel work.